Area Attractions
We warmly welcome our future neighbor, the Tanasi Arts & Heritage Center. And we support their efforts to celebrate Appalachian culture and heritage while promoting the region with environmental sustainability to preserve the natural beauty. For more information about the future site and progress, and their temporary home, see www.TanasiArts.org.
Antiques
Crackerbee's, Unicoi, TN
Hopson's Used Car Lot and Antiques, Unicoi, TN
Main Street Mall, Erwin, TN
Valley Beautiful Antique Mall, Erwin, TN
Historic Jonesborough
Tennessee's Oldest Town, Jonesborough, TN
Visitor's Center, Antiques, Arts & Crafts, International Storytelling Center, and more.... Visit HistoricJonesborough.com for more information.
Need Help?
Stop by the registration office for brochures, maps or other assistance to plan or schedule your area excursions.
Pinnacle Tower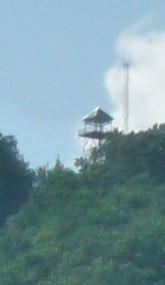 The trailhead to Pinnacle Mountain Tower Trail is within close walking distance of the campground entrance. Click here for more info.